true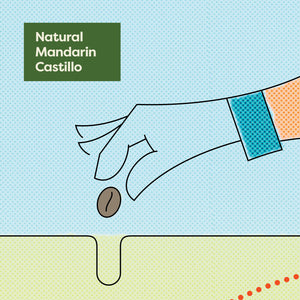 DAVID CORREAL [2020]
Colombia
Arrived October 19, 2020
Forward purchased 70kg of David Correal's Natural Mandarin Castillo
Two (2) bags have been booked by Cafe Pista in Montreal, Quebec
David Correal is a 2nd generation coffee grower. He was a soccer player almost all his life until 26 years old when he decided to become a teacher and also started his interest in coffee. Just two years ago David started to work with Specialty Coffee and different processing techniques.
This coffee was picked following a strict ripeness criteria, hand sorted and floated prior to undergoing this unique Mandarin process. These cherries were harvested from David's farm La Isabelita in Quindio department of Colombia.
This coffee was purchased through Cofinet, a Colombian based producer and exporter who works in many capacities in the coffee industry. They're constantly experimenting on their own farms (Jardines del Eden, Santa Monica) and sharing their discoveries with other producers in Colombia. They've developed Mandarin process and have connected us with David Correal's coffee.
Variety: Castillo
Price per kilogram: $26.52 USD FOB
Process: Natural Mandarin
Total kilos available: 70 kg
Harvest date: January 2020
Fermentation: 48 hour whole cherry fermentation in tied GrainPro bags, with mandarin orange skin then taken to dry on raised beds until 10.5% moisture.
Drying time: 16 days total direct drying in raised beds
Altitude: 1500masl
Region: Armenia, Quindio