true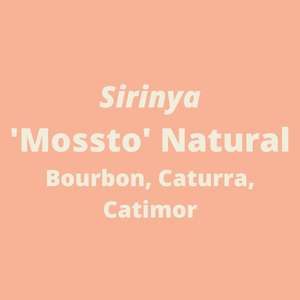 Arrived on December 1, 2022 to Calgary Warehouse

Forward has purchased 2 x 60kg bag of Sirinya 'Mossto' Natural
Two (2) bags of this lot have been booked by Rogue Wave Coffee in Edmonton, Alberta.
For more than 100 years, farmers grew opium in the rich soil of Doi Chang, a village nestled in the border hills of Asia's Golden Triangle. In 1984, the local government trained them to grow coffee instead. That same year, Supon, the founder of Sirinya Coffee was born.

As a young man, Supon left Doi Chang to study theology. He wanted to learn how to help the villagers — including his own family — who are stateless refugees and lack access to basic resources. He returned in 2012 to work on his family's coffee farm and discovered a love for the process, from plant to brew. He also discovered that he could help his fellow villagers by teaching them to produce specialty coffee. Supon has a heart to use business as a tool for redemption in the mountain villages surrounding his home. Today, Sirinya Coffee remains committed to improving lives, one cup at a time. Specialty quality, family-run coffee farm.

Sirinya's micro lots ensure the highest quality Arabica coffee. We use four processes on our coffee cherries: natural, honey, semi-wash, and wash. We constantly develop our cherries and processes for the best flavour. We buy only ripe cherries and practice cupping on every lot of coffee before we sell it.
Great coffee begins with the soil. Our farmers use natural fertilizer and insecticide made from local herbs and fruits rather than chemical products. This cuts costs for the farmers while producing the very best coffee cherries. We pay competitive prices to our farmers, and our profits support families and marginalized people in our community.

This is a method inspired by the innovation in Costa Rica. 'Mossto' is when the processor uses the juice from coffee fermentation in prior batches as a starting culture to ferment the next batch. And the process keeps repeating, thereby enriching the juice with active yeasts and other microbes. The theory is that the juice from the prior batches will be so rich that it will increase the fermentation efficiency in the next batch, making the coffee more complex as a result. This is a 'Mossto Natural' process, meaning that we use the juice from fermenting cherries as whole fruits in closed containers. For the first batch, after 5 days in a closed tank, we took the cherries out then laid the cherries down to dry. The leftover juice in the tank was then taken to pour into the tank with new cherries as the second batch started fermenting. Then after 5 days, the cherries of the second batch were then taken to dry. That juice from the second batch is then used to ferment the third batch. The process keeps repeating and the green are blended at the dry mill for consistency.
Price Forward paid per kilogram: $13.45 USD EXW
Total kilos available: 120kg (2 x 60kg)
Producers: Supon Chaosuwanvilai
Region: Doi Chang, Mae Suai, Chiang Rai
Process: 'Mossto' Natural
Fermentation: Using the recovered juice from previous batches, a fresh batch is fermented anaerobically for 5 days. Repeating this process for the entire lot
Altitude: 1400-1500 masl
Varietals: Bourbon, Caturra, Catimor