true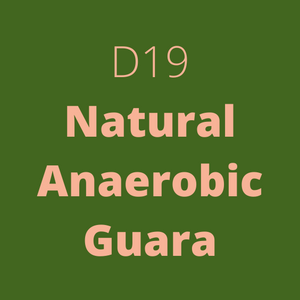 Arriving early-June 2021
Forward purchased 2 x 24.2kg of Daterra Masterpiece D19 Natural Anaerobic Guara
Thirty-six (36) kilograms have been booked by Timbertrain Coffee Roasters in Vancouver, British Columbia
Daterra is one of the most sophisticated coffee operations we've ever had the pleasure of visiting. Located nearby to the city of Patrocinio, in the state of Minas Gerais, Brazil. This is the classic and famed Cerrado region of Brazil, where the fertile land is flat and proven ideal for coffee.
There is beauty in the systems that Daterra has established to produce their coffee. They've turned the farm into an intensive network of lots, all monitored individually, many with automated irrigation systems to ensure ideal nutrients and water are making it to the plants themselves. 
When it comes time to harvest, Daterra will send members of the team to different lots to evaluate the cherry and will harvest small batches to strategize on when to harvest each individual varietal and ensure peak timing. The quality team will then make decisions on how to utilize each of these coffees and where on the menu they'll be used.
The Daterra menu is vast, with three tiers of offerings available, which Forward Coffee is proud to be the exclusive Canadian distributor of. The three tiers are Masterpieces, Collections and Classics.
Masterpieces are exotic, experimental and one-of-a-kind. Packed solely in patented Penta boxes (24.2kg vacuum seal)
Collections high-end consistent coffees that the quality team deems 86 - 89 points, packed solely in patented Penta boxes (24.2kg vacuum seal)
Classics are coffees that best depict the Cerrado region with quality scores between 80 - 86. These are consistent, value offerings available in 60kg bags.
Each menu tier has a wide array of coffee sub-brands that are represented within. Each of these sub-brands holds a flavour profile that the quality team works tirelessly each year to consistently match and replicate, using combinations of coffee processes and varietals on the farm that work to that build. Think about it like a blend on a roasters menu, putting components together to make something that's greater than the sum of its parts.
This is a famed farm that was first purchased in 1976 and today is an icon in the coffee producer world. Leading by example, Daterra is the only B Corp certified coffee farm, has more certifications than we have space to list, and is working toward being a climate positive coffee farm, ensuring they are positively contributing to the climate.
Varietal: Guara is a mutation from a lineage of Catucai: basically, a single plant with yellow cherries showed up among the otherwise red-cherried Catucai trees. The agronomists observed that this mutation presented different characteristics and flavors, so the mutation was selected and cultivated. This is our second production of Guara and we're excited about this varietal – besides making good cups, it's also resistant against some of the worst coffee diseases: the leaf rust and pseudomonas.
Process: The cherries fermented inside a tank equipped with a valve system that prevents any gas from entering the tank. As the cherries ferment, they release CO2 and, because carbon dioxide is denser than oxygen, it pushes the lighter gas out through the valve. After a few hours, the tank environment becomes completely anaerobic, allowing the perfect conditions for microorganisms to perform enzymatic reactions inside of the beans.
Collections: Masterpiece's 2020, D19 Natural Aerobic Guara
Price per kilogram: $35.20 USD FOB
Process: Natural Anaerobic
Total kilos purchased: 48.2kg (2 x 24.2kg PentaBox) 
Harvest date: July 2020 
Fermentation: Whole cherry aerobic fermentation in stainless steel tanks
Drying time: 8 days on patio followed by 30 hours in a drum drier
Drying temperature: 22°C Max. - 8°C Min.  
Altitude: 1150 masl
Region: Cerrado, Brazil