true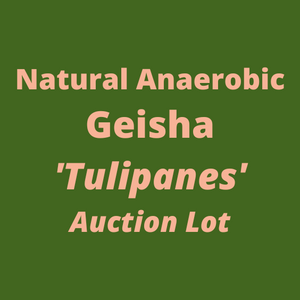 CERRO AZUL [2022]
Colombia
Arrived 2022 to Calgary Warehouse.
Forward has purchased 12kg of Cerro Azul Natural Anaerobic Geisha 'Tulipanes' Auction Lot from Cafe Granja La Esperanza Garden Auction 2022.
Cerro Azul is a very famous Colombian farm which solely grows Geisha. The climactic conditions were deemed ideal for this coffee variety and now there is an array of bronze-tip and green-tip Geisha planted throughout Cerro Azul. Many times it's won National Coffee Championships and has been seen in the World finals a handful of times.
Owned by siblings, Rigoberto and Luis Eduardo Herrera, who come from a long standing coffee producing family. They are now third generation coffee producers, with their grandparents starting in coffee in 1945. When Rigoberto and Luis took over the family operation in the late 90's, they took the labour intensive job of pivoting the farms to organic production. Shortly after taking over Potosi, they purchased the land for Finca La Esperanza and expanded their organic coffee production.

Cerro Azul is a sizeable 20 hectares of land. The Geisha cherry that is produced and harvested here at Cerro Azul is then taken to another of the Herrera's farms, La Esperanza for processing. This is the first farm which hosted the Geisha variety in Colombia, after Rigoberto brought seeds back from Panama. In 2007, Rigoberto leased and managed a farm in Panama called La Carleida, and in 2008 he won the Best of Panama with the Geisha produced there. The same Geisha now produced at Cerro Azul.
Cafe Granja La Esperanza takes their Geisha very seriously, renovation 60% of the trees with new generation Geisha seeds, selected from the previous trees that showed superior productivity, quality and resistance to disease.
Variety
: Geisha
Price per kilogram: 137.34 USD FOB
Process: Natural Anaerobic
Total kilos available: 12 kg
Harvest date: 2022
Fermentation: 6 days in anaerobic tanks
Drying time: 8 days in mechanical dryers
Drying temperature: 15°C - 21°C
Altitude: 1700 - 2000 masl
Rainfall:  1.526 mm/year
Humidity: 85 – 90%